Post to multiple job boards with one click
Are you wasting hours filling out forms on job boards? JobScore can post your jobs to 40+ boards in mere seconds.
We support one-click job posting to all of the following boards (and more).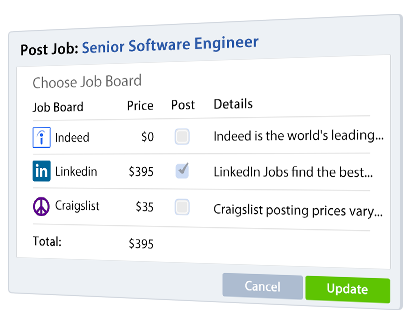 Turn your team into a referral machine
Get everyone involved in hiring – because referrals are the #1 source of top perfomers.
We make it easy for your entire team to market your jobs to people they know using facebook, linkedin, twitter and email.
JobScore tracks what's working so you can tune your campaigns and reward referrals.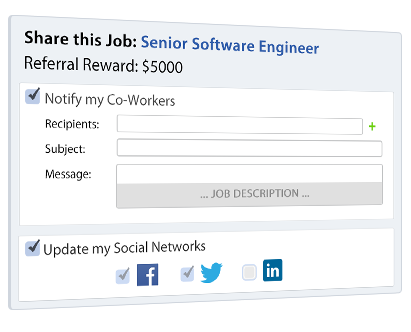 Power the jobs page on your company website
Integrate once, publish forever – you'll never have to ask your webmaster to make changes again!
Customize JobScore to match your website's look and feel.
Multiple self-service integration options: choose a simple link-out, a configurable widget or full data-feed access – no set-up or consulting fees.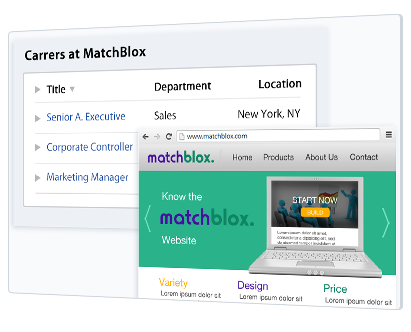 Route applicants and capture feedback
JobScore completely replaces your company's "jobs@" email inbox – and those nasty spreadsheets.
You control who is notifid about new applicants on a job-by-job basis.
Managers can review resumes online or in email – and enter feedback in an easy, self-service UI.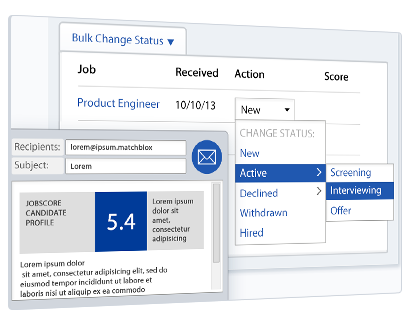 Stay on track with real time reports
Pipeline reports help you stay organized.
Status reports show at-a-glance job stats.
Source reports help you optimize your recruitment spending.
Flow reports shows you hiring pipeline bottlenecks at a glance.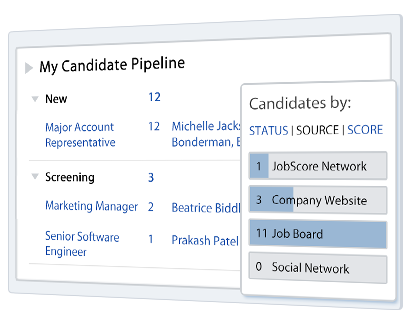 Save time with applicant scoring
JobScore parses resumes so you can quickly review profiles and zero in on qualified candidates.
Applicants are scored based on your criteria so you can filter & sort based on who is the best fit.
Customizable email templates + bulk email = a fast, high quality candidate experience.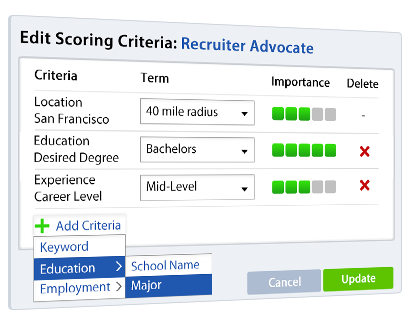 The only ATS that comes with candidates inside!
JobScore in an employer-to-employer resume sharing network with 500,000+ resumes on it.
We recommend resumes for each of your jobs and show profile snapshots – so you have pipeline the instant you open a new job.
If you like what you see, you can use resume credits to access candidate's complete resume and contact information.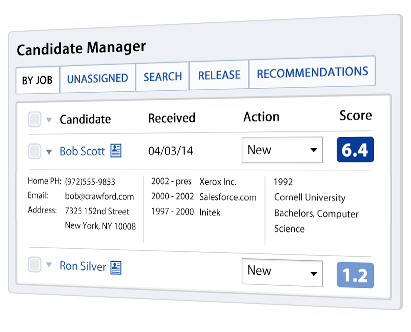 Share unused resumes for credits
Each time your company shares a resume that's not already in the JobScore Network, you collect credits to contact a different recommended candidate for free.
Candidates decide whether you can share their resume or not.
By default, resumes are shared when you ignore new applicants for 5 days, you decline them, or they withdraw.
These resumes sharing conditions are customizable on the Plus, Premium and Enterprise plans.
Sign up for our Plus, Premium or Enterprise plan for complete control over sharing (including disabling sharing completely).