Professional Plastics Saves 100s of Hours By Automating Job Postings with JobScore
Professional Plastics is a leading distributor of plastic materials like sheets, rods, and tubes. The company also offers new product development and fabrication services. Professional Plastics is based in California and has 19 locations worldwide. The firm's centralized HR function is lead by Human Resources Director Joe Daigneault who is responsible for benefits, timesheets, employee relations, and recruiting. The combined solution of JobScore + ADP Workforce Now helped Joe and his team organize and simplify hiring. In just 3 months the Professional Plastics team saved money by eliminating hundreds of hours of work – while making more hires at a faster clip.

1,000+
Plastic, laminates, ceramics & speciality alloys
Challenges
Joe's small team has a lot of responsibility. They were spread very thin and had acute recruiting pain. Getting jobs posted on job boards was a time-consuming, manual process. Candidates were slipping through the cracks. Meeting reporting and affirmative action obligations? A nightmare. To further complicate things, Professional Plastics needed to add different types of employees to their 400+ person team – from hourly manufacturing workers to managers who would own operations across multiple locations.
Manual drudgery
Despite the hiring volume and complexity, Professional Plastics ran a largely manual process. Every time a need was identified, the HR team wrote a job description from scratch, laboriously added it to multiple job boards, and then hounded the IT department to publish the job on their own website. These time-consuming tasks kept Daigneault's team from focusing on more strategic, high value work.
Tracking was lacking
Despite the large number of open positions, Professional Plastics did not have a consistent way to track, review and respond to incoming resumes. "We weren't using an applicant tracking system," said Daigneault. "We were doing everything manually, trying to stay on top of stuff in email and struggling to use job boards like Indeed and LinkedIn to track applicants. It wasn't working." Despite the need to hire many people, nobody really knew exactly how things were going.
Compliance woes
Joe knew that to remain compliant with state and federal laws, Professional Plastics needed an affirmative action plan — and a way to capture and report on this data from job applicants. This information was coming in inconsistently, if at all, exposing the company to potential fines and liability.
We were doing everything manually, trying to stay on top of stuff in email and struggling to use job boards like Indeed and LinkedIn to track applicants. It wasn't working."

Joe Daigneault
Human Resources Director
Solution
Daigneault recognized the needed to find a job posting and applicant tracking solution that would increase his team's productivity by reducing manual tasks. As a happy ADP customer, he wanted something that integrated well with ADP, could be implemented quickly, and would be easy to use. Daigneault did his homework and the results were clear: "We looked at a number of different solutions, and it was immediately clear JobScore met our needs."
Pre-built, Instant ADP integration
Professional Plastics relies on ADP for its Human Resources Information System (HRIS) and complex, multi-location payroll needs. Joe knew he needed a solution that would instantly integrate. "I stumbled across JobScore in the ADP marketplace," said Daigneault. "The ADP marketplace is neat– it's like the app store on your iPhone. You search, click on an icon and instantly connect ADP to an app– it's all integrated. It just works."
The JobScore ←→ ADP Integration also helped streamline the onboarding process for Professional Plastics – because when you hire someone in JobScore, the candidate's information is passed over to ADP and you just keep going.
A user-friendly solution with the right features
Daigneault needed a solution that was user-friendly with the right functionality because he knew his team was too busy to spend a lot of time learning a new system. "JobScore is very lean," said Daigneault. "It has a lot of functionality — but it's very user friendly." Daigneault attributed the ease of use to "bread crumbs" built into the product that pointed him at what he needed to do next.
Joe also knew that the solution would be easy for candidates because job postings looked great and offered a "one click" job application experience. He said he hasn't had a single candidate mention that the job application process was difficult or confusing.
Compliance woes
With JobScore, the Professional Plastics team can instantly post jobs to job boards the moment they open. "We can totally customize the job posting however we want," said Daigneault. "We've even added a small library of pictures and videos that we include in our job postings, which makes them a lot more polished and keeps our message consistent." Once the job posting is created, JobScore immediately publishes it to 15 different job boards and gets it indexed on search engines. "We're getting really good traction from the job boards," said Daigneault. "And if you do a simple Google search for jobs in our location, we're now showing up near the top of the list."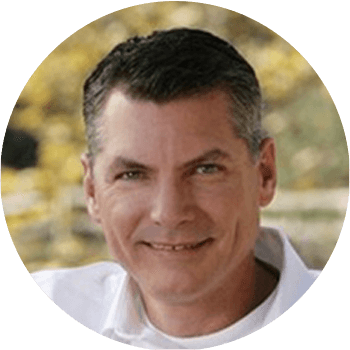 JobScore is very lean. It has a lot of functionality — but it's very user friendly."
Joe Daigneault Director of Talent Acquisition

Results
Thanks to Professional Plastics' partnership with JobScore, Daigneault and his team are getting more, better hires. The built in job board posting, tracking and resume routing have empowered them to process more applicants in less time. Things are going so well that next quarter Joe's planning to re-allocate some of his job posting budget to another project. To top it off, everyone feels great because Professional Plastics has an improved candidate experience that tells a more professional, polished story to job seekers.
More candidates in the door
Since implementing JobScore three months ago, Professional Plastics has received 1,100 applications for 40 jobs. "We're getting good candidate flow on most of our jobs," said Daigneault." But what's even more important, the team feels like they are "on it" and not buried in a pile of resumes that no one has the time to read and respond to.
A professional, polished candidate experience
"Before JobScore, I might see a candidate and call them, and then Sandy, our HR coordinator, might call the same candidate after I did," said Daigneault. "That didn't look good to the candidate. It made us look like we didn't know what we were doing. That doesn't happen anymore."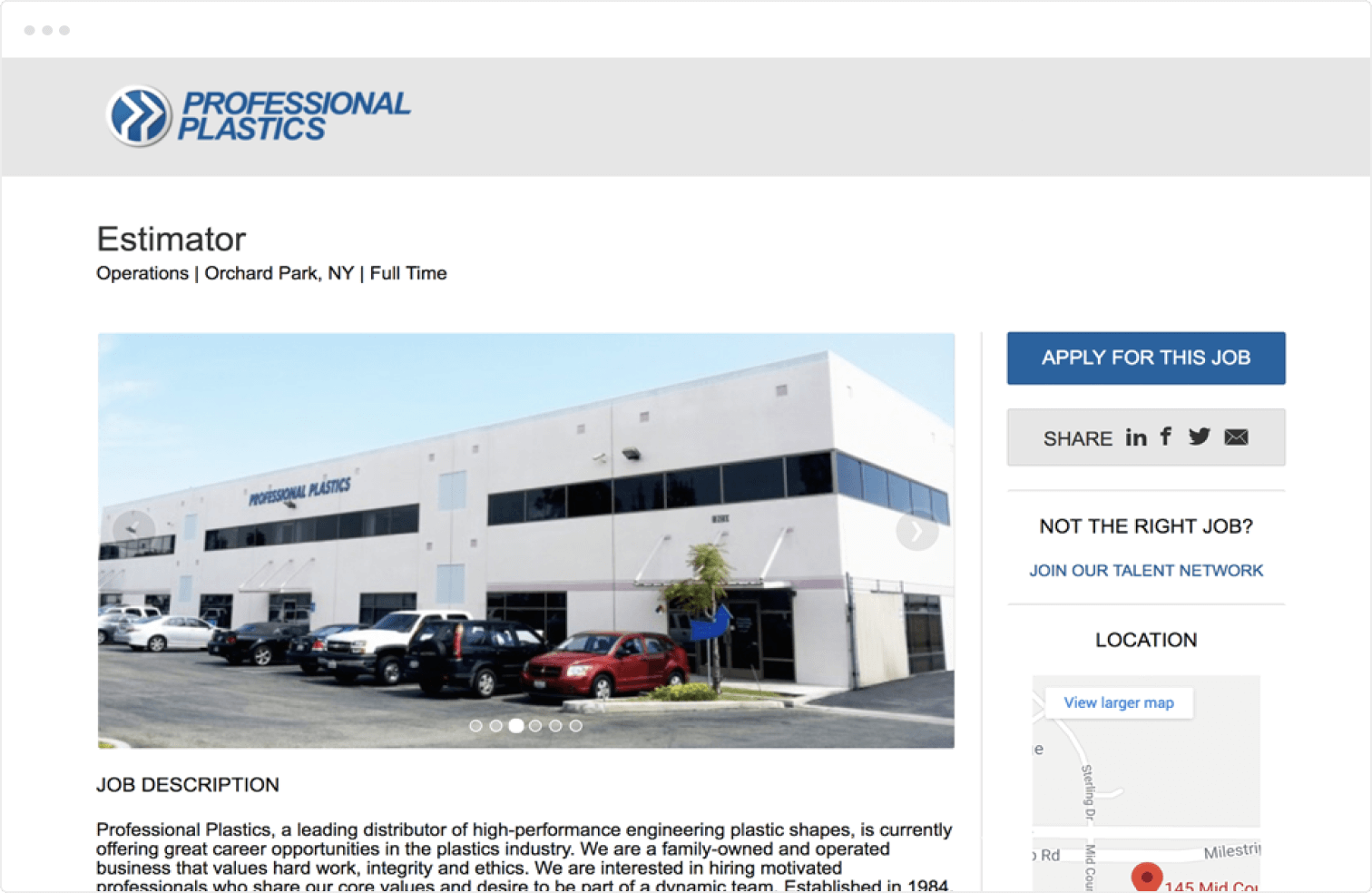 Found money
One of the best parts of JobScore is that it auto-posts open positions to many job boards for no additional charge. "Many of the large job sites, like Monster and Indeed, are telling us we should pay to sponsor our jobs," said Daigneault. "We're finding that, with JobScore's posting, we're already getting solid visibility." Because Joe knows he's getting the candidate traffic they need, budget that is currently earmarked for paid job boards can be reallocated to other projects
Simplification is the gift that keeps on giving
Thanks to JobScore, Daigneault and his team are able to be better HR partners at Professional Plastics. "JobScore is a very simple tool to use, and we don't have to juggle candidates in different places," said Daigneault. "Everything is captured in one spot. It's definitely freeing us up to do other things in HR and be better at our jobs."