JobScore announces partnership with Facebook
JobScore is the first recruitment software provider to help businesses reach millions of people with Facebook partnership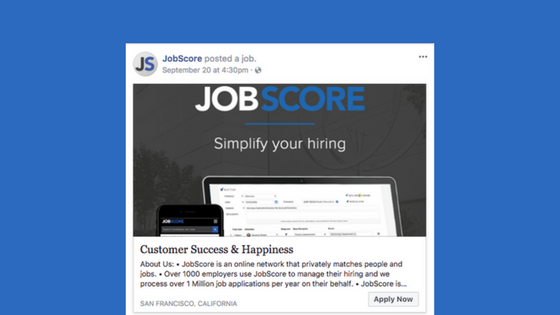 Today we are proud to announce our partnership with Facebook as the first recruitment software provider to help businesses publish their jobs on Facebook. The Facebook partnership provides JobScore customers the opportunity to get jobs in front of millions of people that are often very hard to reach through traditional recruitment advertising.
The reality is that 40% of US small businesses report that filling jobs is more difficult than expected, which is a big problem when you consider small businesses employ nearly half of the U.S. workforce.  This partnership is another way we're making the hiring process even easier for people and businesses.
Dan Arkind, JobScore CEO said, "it's hard to understate the importance of Facebook's entry into the online jobs market. Facebook provides employers almost unfathomable reach and targeting capabilities. It makes sense to help employers reach qualified people where they already spend time with people they know and trust.  We're honored to partner with Facebook and excited to help shared customers get more value from the platform."
The new integration helps businesses find qualified people where they already spend their time—on Facebook and mobile devices. The integration provides a seamless experience for both candidates and hiring managers alike. Job seekers can quickly apply using their Facebook profile, and applications go directly into JobScore for review.
Through the partnership customer's jobs are automatically added to the company's Facebook page and Facebook's job board, providing many benefits for shared customers:
Eliminate hours of manual data entry required to add jobs to Facebook.

Stop manually reviewing candidates in Facebook messages and email.

Process and rank applications to surface qualified candidates.

Provide a great candidate experience by quickly responding in a few clicks.

Measure how Facebook performs vs. other recruitment advertising options.
The best part? It's easy to get started.
Simply connect your Facebook page with JobScore: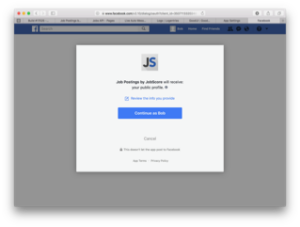 Once your Facebook page is connected, turn on "Free Job Distribution" to Facebook: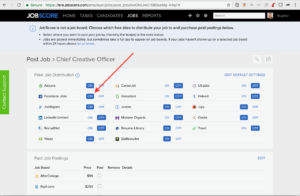 Now your job will automatically be added to your Facebook page and candidates who apply will go directly into JobScore for review.
This gives employers the best of both worlds – the reach and applicant volume of the Facebook platform paired with the ability to process job applications the way they want and hire the right person. This feature is currently in limited release and will roll out to all customers soon.
Want to learn how to get your jobs on Facebook? Please contact us.
---
Load Comments