Diversity Questions & Reporting
We know many of you are actively trying to improve your diversity hiring. We've been helping employers do this for some time:
For over a decade, JobScore has allowed candidates to self-identify their race, ethnicity, veteran, and disability status to meet compliance requirements in the United States.
Our OFCCP applicant log detail report includes how far these diverse candidates move through your hiring process.
Last year we added a few paid posting options to help employers attract more diverse candidates, including market-leading sites like Diversityjobs.com and Circa.
But you've asked us to do more. Today we rolled out features to address 3 concerns that you brought to our attention:
You couldn't ask private diversity questions for jobs outside of the USA
You couldn't ask private diversity questions other than the standard EEO & OFCCP compliance questions in the USA
Modern diversity reports were too hard to create manually
Our new Diversity Questions are extremely similar to multiple-choice candidate questions with a few notable differences:
The first answer option for all diversity questions is "I don't wish to answer"
When creating a diversity question, instead of showing an "other" option, the text "Prefer to self-describe as" is shown.

Like answers to compliance questions, answers to diversity cannot be seen by your team when they review candidates.

We've added diversity reports so you don't have to Frankenstein other reports and exports to meet your diversity reporting needs.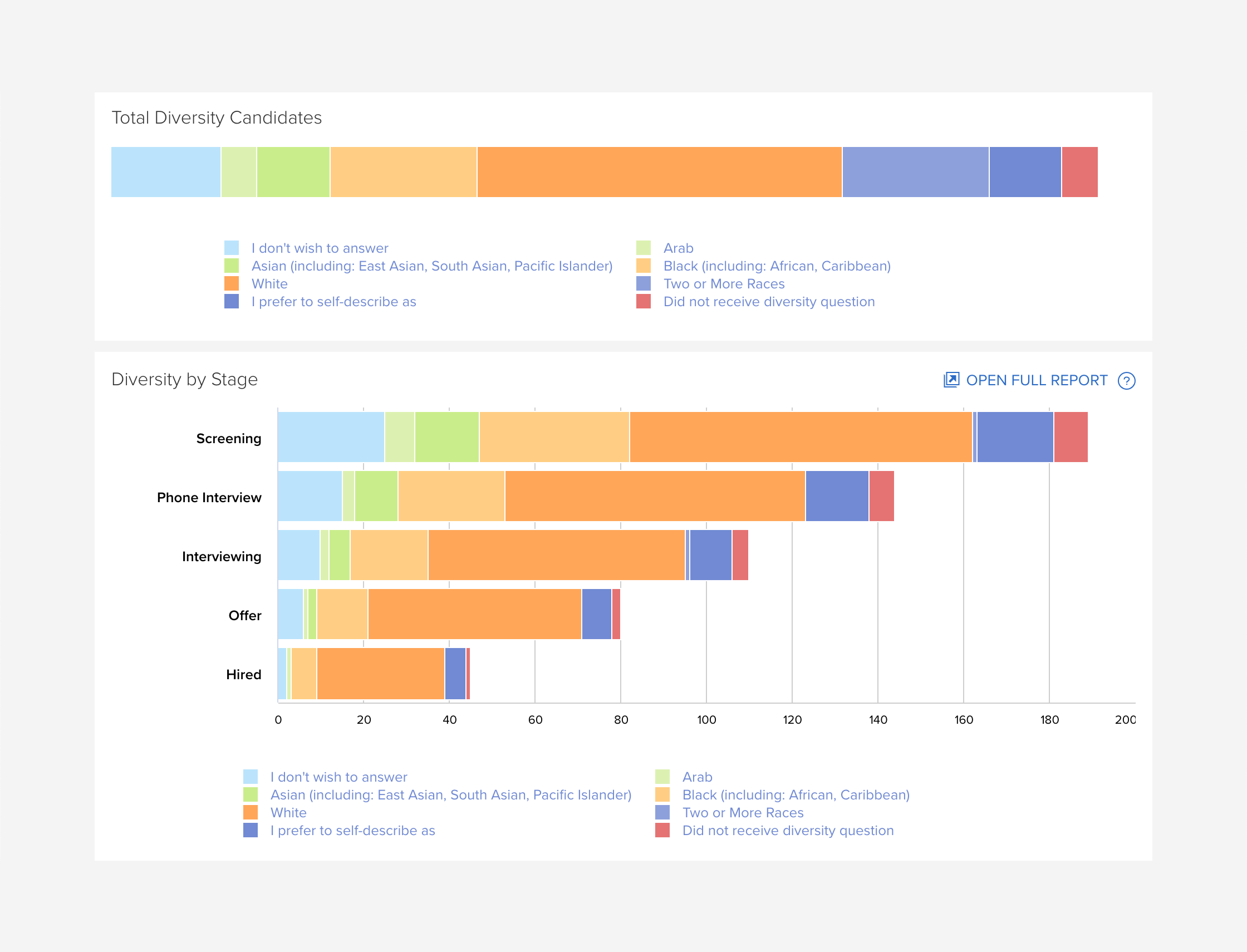 The diversity by stage report shows how many self-identified candidates reach each stage in your hiring process. This makes it clear when diverse candidates are being declined so you can drill down to investigate what's happening.
____________________________________________________________________________________
Another diversity hiring best practice is to use disposition codes to track why candidates are declined. The diversity by disposition report exposes why self-identified candidates are declined, giving you insight into why your process eliminates diverse candidates to help identify opportunities to be more inclusive.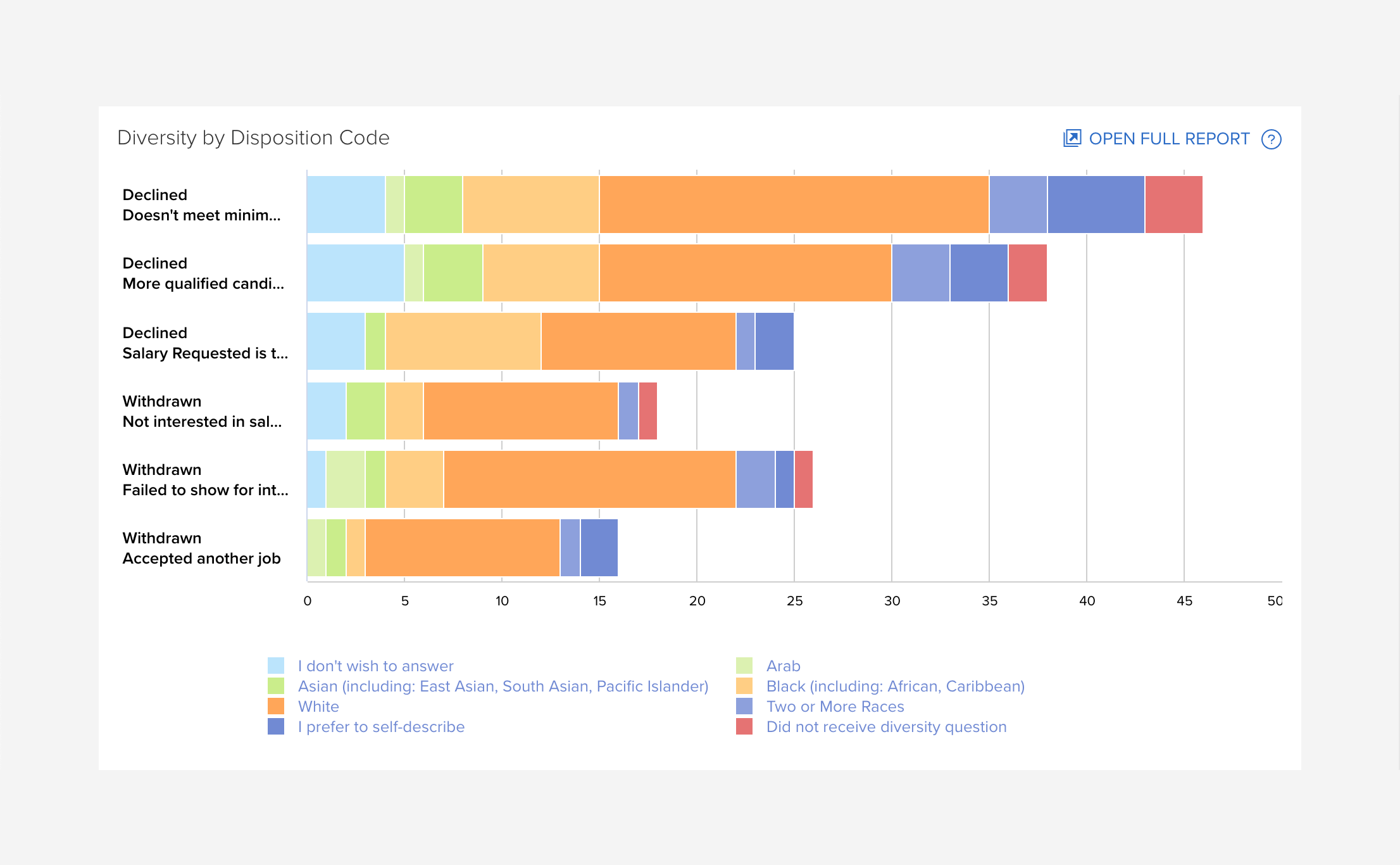 You can create as many diversity questions as you like then assign them to whichever jobs you want. We recommend creating diversity questions for specific geographies and then creating job templates with these questions to ensure you don't forget to include them.
A good example of a diversity question would be to ask job applicants their ethnicity. In the USA options like "Native American," "Hispanic," and "African American" are appropriate alternatives, but these ethnic designations don't make sense in other countries. It's likely you'll need multiple different ethnicity questions with unique options for jobs on different continents.
When you use interview templates with quantitative ratings assigned to specific workflow stages along with disposition codes, JobScore provides visibility into:
Who is reviewing and interviewing candidates
What they are being asked
How they were rated and
Why they were declined
When you fully utilize these features, if something looks odd in a diversity report, this detailed historical data can be analyzed to determine what to adjust to minimize bias in your hiring process.
Finally, if the reports identify a potential problem, our Zoom Interview Recording integration will allow you to listen to what happened in specific interviews and help coach up interviewers when needed.
____________________________________________________________________________________
Achieving diversity goals is far from push-button simple, and recruiting technology is one small part of the equation. That said, JobScore is committed to helping you conduct diversity hiring initiatives, and we look forward to continuing to listen, partner, and innovate to help you achieve your goals.
Diversity questions and disposition codes are available on our SCALE and ENTERPRISE plans. To learn more or inquire about changing plans please contact us.
Happy Hiring!
---
Load Comments