Share resumes and candidates online

Job Seeker

Your Company

The JobScore Network
JobScore has what in-house recruiters need to get the job done
A hosted careers page, one-click job posting, referral campaigns, resume parsing and scoring, and reports – the works
Stop recruiting alone – Reach better, more diverse talent pools with resume sharing!
What if you could access resumes that other recruiters had sourced, but chose not to use? Now you can, with JobScore's resume sharing technology.
The way it works is simple. Resumes are available to share with other recruiters when new applications are ignored, or when the application is marked as declined or withdrawn. To view one of these resumes, other recruiters must share their unused resumes. The result: a community of recruiters who share great resumes that they can't currently use.
Resume sharing is free, as long as your company shares its unused resumes. If your company subscribes one of our paid plans, you can also choose to turn resume sharing off.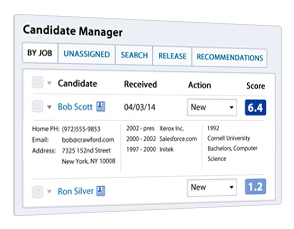 1
Job Seekers apply
for your jobs through your JobsScore hosted careers site. They decide if they want to be recommended for other jobs as part of the application process.
2
You review
your resumes and share the candidates you choose not to hire. You earn one credit for each new resume you add ot the JobScore Network.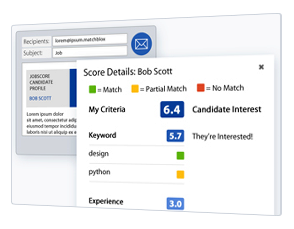 3
We recommend
resumes shared by other employers that match your job requirements, and you can spend credits to contact them.