#1 Applicant Tracking System and Recruitment Software
Click less, Recruit More
JobScore is an affordable, self-service applicant tracking system designed to help you hire better.
TRY IT FOR FREE
Post to multiple job boards with one-click.
Employee referral rewards.
Tasks, notes, reports – it's all there.
No sign up fees, upgrade or downgrade at any time.
Applicant tracking systems: Go beyond recruiting software
Sure, we help you manage requisitions, track applicants and run reports… but candidates are what count. Our primary goal is to make it easy for you to find and zero in on great people.
JobScore is also a shared resume database. Employers can opt to privately share resumes amongst themselves, building a unique pipeline of qualified, interested candidates for your jobs.
Hiring is a team effort and we make it easy to get everyone involved. Our social recruiting features leverage your team's personal connections to find great candidates.
JobScore was designed by recruiters, not software engineers. We've built something we love to use, and we think you will too.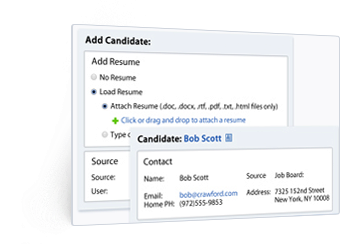 1
Resume Parsing
Reduce monotonous data entry and spend more time on strategic work.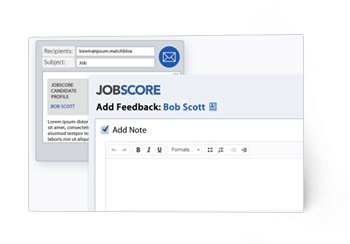 2
Unlimited Users
Everyone can add feedback and referrals directly to the system. No more chasing feedback.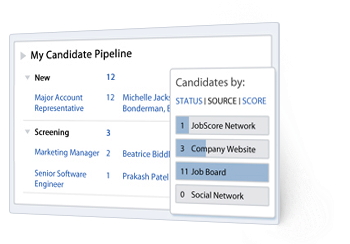 3
Self-Service Reports
Increase productivity and transparency. No more nasty spreadsheets!